About us

Our main specialization is performance of full cycle of construction and repair work with the delivery of objects of any complexity in a short time with guaranteed quality.
Guarantor of the effectiveness of our work is a deep knowledge of the industry's market, highly qualified personnel, cooperation with partners and suppliers in a beneficial way.
Corporation "Ukrtransbud" is a company providing construction services in the northern region of Ukraine. We are engaged in construction activity since 1996. During this time we accomplished more than 50 projects.
Among the successfully implemented projects are:
Personnel training centre. 2003-2008. Design and construction. Employer: SSE "Chernobyl NPP".

Construction of "ChNPP Industrial Complex for Solid RAW management in the 30-km zone of Chernobyl". 2000-2004. Employer: Company NUKEM (Germany). Civil works.

"Design and construction of buildings and facilities of the offsite utilities and associated facilities". 2002-2007. Employer: SSE "Chornobyl NPP" PMU SIP

Construction of "Facility for production of steel drums and reinforced concrete containers for radioactive waste stored at ChNPP". 2008-2011 Employer: SSE "Chernobyl NPP". The project was implemented with the support of the European Commission.
There are over 40 highly qualified engineers and technical workers and 400 skilled workers who works permanently in "Ukrtansbud" corporation to realize assigned tasks. Additional staff and subcontractors are involved, if required. Experts of the enterprise promptly resolve all issues related to obtaining permission to carry out works and its coordination with the relevant supervisory and administrative services, conduct the design and technical supervision of executing works. Methods and techniques of work are being improved based on experience gained and modern innovations.
Our strategic goal and objective is constant and continuous improvement.
Corporation "Ukrtransbud" pays special attention to quality, H&S, environmental safety and search of cost-effective technologies. The study and implementation of the advanced foreign experience, development of own methods of construction had reserved a deserved reputation for our company.

We are the innovative and energetic company with experience in the segment of complex unique projects of industrial construction, including in conditions of increased radiation hazard. Our team brings together the most skilled professionals, provides flawless fulfillment of obligations to our clients and partners.
In our work in decision making and interaction with the outside world, we are guided by our values:
PRODUCTIVITY
We achieve results in spite of the circumstances and force majeure. We strive to exceed our clients' expectations. Responsibility for the qualitative work result rests with every employee of our company, starting from the site worker to PMU head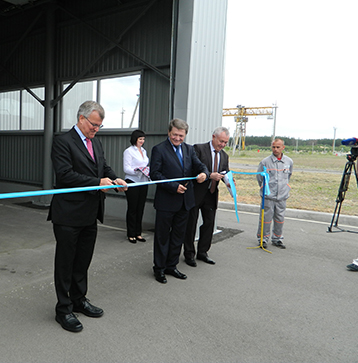 EXPERIENCE
In the course of our work we have implemented a number of really complex and unique projects. Such an experience under our belt allows us to confidently take on objects of any complexity and guarantee the fulfillment of undertaken obligations.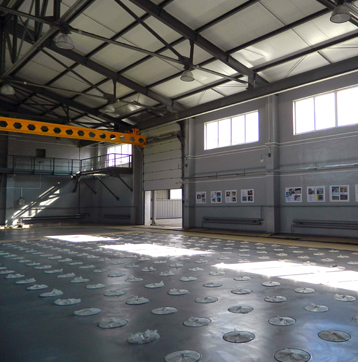 INDIVIDUALITY
In the rapidly changing world around, we remain flexible and set up our work taking into account the new trends in the construction process and technology, as well as tailored to individual customer's preferences. Therefore, we achieve exactly the results that our clients expect.
Today we have a strong stand at every stage of the construction process, from project development to construction and commissioning of facilities.
Corporation Ukrtransbud stand out from other construction companies especially for those values that it brings to its partners. We respect our commitments and the people with whom we do business. In the process of cooperation we want to create a foundation for the development of long-term partnership.